Professionnel brosse new York™ FOR GENTLE DEEP CLEANSE reviews
Regular price $39.99 $19.99 Sale
Buy 2 Get 1 FREE
✅

 

Free Shipping Worldwide
✅ 100% Money Back Guarantee
✅ Order Processed Within 24 Hours
We know how heartbreaking it can be when your flakes, scales and other scalp problems start reappearing even after spending lots of money and time on different hair and scalp treatments.
The LUSHSCRUB™ is guaranteed to permanently improve your condition within 2 weeks or your money back, no questions asked!
Get Rid Of All Scalp Troubles Naturally In Just 3-4 Washes!
To solve this issue permanently, we must literally tackle the root of the problem. An oily or dry scalp can lead to an extremely frustrating random itch that is caused by the buildup of oil, dirt, dead skin and bacteria clogging the pores on your scalp. Leaving it untreated can lead to severe dandruff (seborrheic dermatitis), followed by hair loss.
See & Feel The Difference In Just One Wash!
Designed from top leading beauticians from Japan, the revolutionary LUSHSCRUB™ is the most natural and quick solution to end all of your existing scalp troubles. Its medical-grade soft silicone bristles effectively remove dead skin, bacteria & fungus that causes hair issues, allowing your natural oils to keep the hair and scalp nourished and healthy. The LUSHSCRUB™ offers a soothing massage while deep cleansing your scalp as you shampoo and condition your hair making your shower cleansing experience pure bliss.
If you have dandruff, eczema, and/or seborrheic dermatitis, grabbing this tool could be a hair-saver.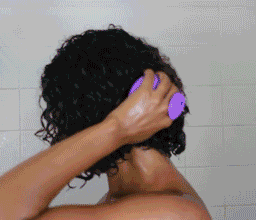 Reduces Thinning & Boost Hair Growth For Thicker Fuller Hair
Not only does it softly exfoliates the buildup in your scalp, but the LUSHSCRUB™ also massages and stimulates the blood vessels underneath your scalp encouraging faster blood circulation of nutrients and oxygens into the follicles resulting in a thicker healthier hair growth and reduced thinning.
Listen to the difference yourself
"Who knew that such a simple product could help me with my seborrheic dermatitis? I was stressing out wondering how else I was going to manage my horrible dandruff when I saw this nifty product and figured I'd give it a shot. And HOLY MOLY my flakes are gone GONE!" - Katie T. Chicago, IL


Soft Medical Grade Bristles For Maximum Relaxation With ZERO Tangles
Unlike your fingers, the anti-tangle bristles will be able to get down and deep to clean the hair roots, dislodge any dirt, while giving you a spa-worthy massage at the same time. Your hair and scalp will be left cleaner and happier like never before. - Works well for ladies who do not want to ruin their beautiful nails.
Amazing benefits of using the LUSHSCRUB™:
Eliminates Dandruff
Relieves Scalp Itch
Fixes Dry/Oily Scalp Problems
Reduces Thinning
Promotes Hair Growth
Anti-Tangle Technology
Improves Blood Circulation Of Your Scalp
Gives You One Amazing Scalp Massage -

 

Be stunt at how soothing it feels!
Suitable For All Hair Types, including extetions, weaves, dreads, ect.
Directions:
Apply shampoo to your scalp as normal.
Hold the massager in your palm using the handle and slowly massage the shampoo brush over your entire scalp in an up and down motion.
Use as much or as little pressure as you like.